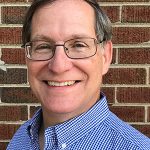 George is from the east coast and his wife Beth is from Northern California. They came to Waukegan in 1984 so that George could pursue a seminary degree.
The Lord had other plans and upon graduation from Trinity Ev. Divinity School he was asked to become the pastor of the Foursquare Church in Waukegan
(now Family Life Church). Waukegan became their home and as the Lord prospered the church He also prospered their family, enabling them to raise
three children, Nathan, Corrie and Mark. All three children are now married and grandchildren are beginning to be born! George has been a part of FRCZ since 2014.