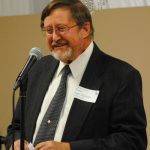 What makes me tick: A growing delight in how magnificent our God is and a desire to serve Him and make Him known in all His splendor to others.
Bio: A sinner saved by the grace of God. Married to Beccy, the love of my life and wife extraordinaire. Three children and seven grandchildren, of whom I am very proud.
On pastoral staff of Cornerstone Community Church (Wadsworth) since 1989; senior pastor since 2008. Loves gardening.