Don't get caught worrying about being pregnant before, you are sure. A missed period is the most common indication, but it doesn't necessarily mean you are pregnant.
Common pregnancy symptoms: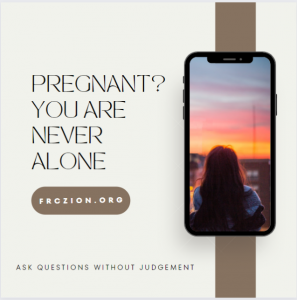 Late period
Tender or swollen breasts
Frequent urination
Nausea or vomiting
Fatigue
Lightheadedness or fainting
Backaches
Food cravings or aversions
Darkening of the nipples
FRCZ provides you with a no cost, lab-certified pregnancy test. You will have the results during your appointment.
Call: 847-731-8360 or Text: 224-300-0860 us today to schedule a confidential appointment.
How accurate is the test?
Our tests are laboratory quality. They can detect the hCG pregnancy hormone as early as 7 days after conception or 21 to 24 days after the first day of your last period. The test is over 99% accurate.
Can I have a retest if my test is negative and my period doesn't start?
All pregnancy tests work by detecting a special hormone in the urine or blood that is only there when a woman is pregnant. It is called human chorionic gonadotropin, or hCG. hCG is made when a fertilized egg implants in the uterus. hCG rapidly builds up in your body with each passing day you are pregnant.1
Should I see a doctor if I have a second negative test and have not started my period?
If you have concerns about missed periods and your pregnancy test continues to be negative, you should see you health care provider for assessment. If you need resources for health care, our center can provide you referrals. This information is intended for
general education purposes only and should not be relied on as a substitute for professional and/or medical advice.
Call: 847-731-8360 or Text: 224-300-0860 now for a confidential appointment, for a no cost pregnancy test and possible limited OB Ultrasound*.
Scared?       
Pregnant and scared? You have options. We can help put your life back on track.
Let us help you achieve your goals in life.
Your life is not over . . .
It can be confusing to find yourself in an unplanned pregnancy situation. Sometimes there are many friends and relatives with so much to say that you can't even hear your own thoughts. Even when you can, it can be difficult to sort them all out.
At other times, circumstances can seem to pressure you into a corner where your options feel limited.
We would love to listen to you.
Our no cost, completely confidential, one-on-one, pregnancy option coaching and optional long-term support will encourage you through this time in your life.
Reach out anytime. If our hours are not good for you, call, text or email for an appointment that suits your needs.
For Unplanned Pregnancy,
We Offer
No cost pregnancy tests
No cost limited OB Ultrasound*
Counselling and accurate information on:
Pregnancy
Adoption
Abortion
Parenting
STI's
Post-Abortion trauma counseling and support
*Ultrasound scans are used to confirm the presence of a viable, uterine pregnancy. We do not use ultrasound to determine gender or diagnose abnormalities. Eligibility criteria apply.
Family Resource Center of Zion offers many services to women facing unplanned pregnancies including no cost pregnancy tests, ultrasound pregnancy confirmation, and education about abortion, parenting & adoption. This center does not offer pregnancy termination or abortion referral.